This Wednesday, January 18, The Dames Present: Streep Scenes: Breaking Down Meryl.
Wednesday, January 18, 2012
6:30 – 7:30 pm
UCB Theatre
5919 Franklin Ave.
Los Angeles, CA 90028
$5
Reservations here (yes, it's called a Spank show — that's what the theatre calls this time slot.)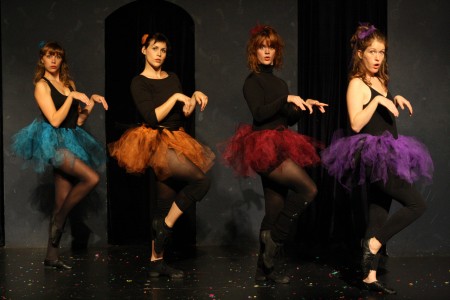 The Dames" are a theatre troupe of serious, dramatic thespians. In this show, they take you on an emotional journey with their idol, Meryl Streep. They break down some of her most famous scenes, setting them in real-life circumstances so that you, the lucky audience, may enjoy them. They also wear tutus. You're welcome.
Streep Scenes is about 25 minutes; we're first in the hour; then there will be an intermission, then another show.
 The Dames are:  Alex Fox, Marcy Minton, Mary Holland, and Rendel Leatherman.